I would like to welcome you to my website and to show you some of my work. I love to paint and to give my clients pleasure with the results.
After an early introduction to painting by an inspired teacher, my art career was put to one side, owing to an extremely busy lifestyle, a great deal of which has been involved with horses. I trained my own and other people's point-to-point horses and produced show ponies for friends, and my own show horses.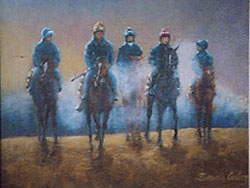 Early Work - Newmarket
I restarted my art career about 16 years ago with help from Katie Millard and Neil Cawthorne.
I have paintings in private collections in the USA, Canada, South Africa, Holland, Japan, Belgium, Bermuda, Scandinavia, Portugal, Dubai and the Republic of Ireland as well as in the UK.
My equine commissions range from successful show ponies i.e. (Ropewalk Viscountess) and horses (Kings Warrior & Supreme Champion Suffolk Punch. Stallion, Golden Grandchild) to family ponies.
I have been commissioned to paint several successful racehorses including Silver Patriarch. Four National Hunt horses for Mrs Dee Lousada, three for Mrs A Shutes and one for Mr D Barnard, to name but a few.
Also, I was one of only six British Equestrian artists painting a section of the huge Mural Mosaic, which was on show in Canada and Europe. The web link to the mural is:
www.muralmosaic.com/Cadeau.html
Currently I have several portraits under way, this is wonderful as I just love to paint to commission, and to capture the likeness and character of my subjects.
EXTREMES! - I have painted two little paintings (12cmsx13.3cms approx 4 x 5 inches) in aid of The Injured Jockeys Fund, which sold on the first day shown at the Cheltenham Festival last year.
I then painted a mural (12 2cms x 244 cms. 4ft x 8ft) for the Sudbury Arts for all Festival and the 8x4ft painting of the Suffolk Punch foals has gone to Banham Zoo, nr Norwich.
Exhibitions I have shown at include:
Canada - http://www.muralmosaic.com/Cadeau.html
Angel Hotel. Bury St. Edmunds (solo)
Norwich
Suffolk Showground
Hadleigh Showground
Newmarket: Museum, Palace House, Racecourse, National Stud (solo)
Equestrian Artists Exhibitions, Christies, London
Cambridge Galleries
I paint equine, human, dog and cat portraits (from racing greyhounds to family pets). My procedures vary to suit the needs of my client. I aim to produce paintings that please my clients, with an excellent likeness which will also reflect the character of the subject. I am happy to paint portraits of deceased animals from good photographs and am able to arrange framing and can offer advice.
I am able to travel nationally (travelling and associated expenses will be added to my fee).